✨🛍️Discounts🛍️✨
WELCOME10- 1 time use for new customers.
✨About our Brand✨
We believe in Self Care that makes Scents! But only in the most fun , exciting & non toxic way . If you're new here hello ! I'm Tatiyana the owner & many know my story. But if you don't I'll give a brief run down but you can learn more in depth in blog posts on here or follow my social medias. I'm going on 5 years in Recovery & learned quickly that a big part of my healing journey & others are self care . I realized how much your senses play a huge part in your mood. There's scents that bring happy memories & tingles , there's scents that aren't so great as well. That you want to get rid of & replace with a scent that makes you happy . So every time I create quality products for you. I'm in a very happy place healing myself by the product. I've also learned that way too many products on store shelves are not safe w/ the ingredients being used . So I've spent 4 long years perfecting healthy, safe, fun & quality products that actually provide results! My mission & goal is to get my brand's name out & bring together those who need a listening ear & a caring heart to provide support & hope. I also aim to be able to generate enough sells to be able to donate a percentage of profits to treatment centers & homeless shelters. Thank you for your interest in my business. I've worked so hard on it. If you'd like to know more about me or my brand or simply need someone in your corner please contact me. My contact information is plastered all over my website. Happy shopping 🛍️ 💕✨
Tatiyana J., Owner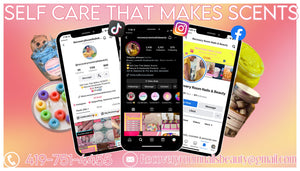 Follow our Social Medias
Stay Connected with the Latest Updates and Exclusive Offers!